$109.95
Raynox
MSN - 202
Super Macro Lens 1.5x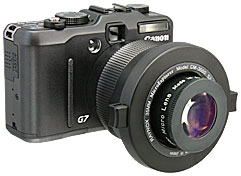 Click camera for actual comparison images.
MSN-202 Super Macro/Close-Up lens
You can simply "Snap On" MSN-202 Super Macro lens onto the LA-DC58H Canon lens adapter by using a universal mount UAC3500 and it will be able to take macro images with minimum distortion at the maximum telephoto position of PowerShot G9/G7 camera.
(Shooting distance from the object ;32mm(∞) in maximum telephoto zoom.)
Magnification : 25-Diopter
Lens construction : 3G/4E Optical coated glass elements.
Zoom capability : 4X - 6X
Front filter size : None
Rear threads size : 37mm
Size/Weight : MSN-202 42x22mm/60g(2.1oz).


UAC3500 Universal adapter is Included in MSN-202.